Laura-Jacob Wedding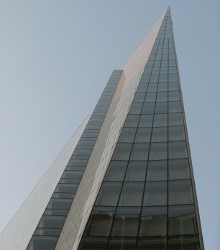 One early evening in August, our quartet played at Laura and Jacob's wedding in downtown Chicago.  Elegant decorations lined the aisle; there was a large chuppah at the front, and huge windows which opened and lit up the room after Laura processed down the aisle.  In the planning process, Laura expressed interest in opera, baroque, and Jewish selections, and we were able to make all of those genres work for her wedding:
Prelude: Musetta's Waltz from "La Boheme" (Puccini), Autumn (Vivaldi), other Jewish and baroque selections
Family/ Bridal Party: See the Conquering Hero from "Judas Maccabaeus" (Handel)
Bride: Intermezzo from "Cavalleria Rusticana" (Mascagni)
Recessional: Chossn Kalah Mazel Tov (Traditional)
Postlude: Brandenburg Concertos 5 and 6 (Bach)
Laura specifically requested that we not play any Mendelssohn or Wagner, and we are always willing to omit selections or composers on our repertoire list.  We also played at the cocktail hour which was, conveniently, right outside the ceremony room.  For the cocktail hour, Laura and Jacob requested light, baroque chamber music similar to "The Four Seasons" by Vivaldi.
Congratulations Jacob and Laura!
Making a "do not play" list for your musicians is perfectly acceptable.  Our ensemble has plenty of music, even if you do not want more than half of what is on our quartet repertoire list.  Of course your hired group will use their judgment when deciding what music to play during your event as well (e.g.: we only play "Bridal Chorus" if the bride specifically requests this piece).
© Copyright 2010-2013&nbspWhite Lake Quartet | Chicago, IL | All Rights Reserved &nbspContact Us »