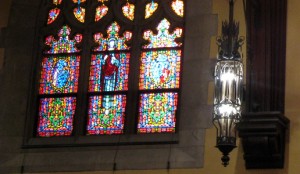 This past fall Kristen and Michael married in a beautiful, recently-refurbished church in Chicago's north suburbs. The church had wonderful acoustics, making it a great place to play. Kristen was incredibly organized in her wedding plans, and we had almost all of her music selections finalized more than two months before her wedding. The following is the list of music Kristen requested:
Prelude: Somewhere Over the Rainbow (Arlen), Chasing Cars (Snow Patrol), Yellow (Coldplay), The Rose (from the movie "The Rose"), Somewhere in Time (Barry), The Wedding Song (Kenny G)
Parents/Bridal Party: The Prayer (Foster)
Bride: Jesu, Joy of Man's Desiring (Bach)
*Psalm: This is the Day the Lord has Made (Psalm 118)
*Alleluia: Celtic Alleluia
Unity Candle: Air on the G String (Bach)
Presentation of the Gifts: Amazing Grace (Traditional)
*Communion Mass Parts (from "Mass of Creation"): Holy, Holy, Memorial Acclamation, Amen
Passing of the Peace: Winter from the "Four Seasons" (Vivaldi)
*Lamb of God: Agnus Dei
Communion: You Raise Me Up (Groban)
*Visit to Mary: Ave Maria (Bach/Gounod)
Recessional: Trumpet Voluntary (Clark)
Postlude: Bittersweet Symphony (The Verve), Fields of Gold (Sting), Time to Say Goodbye/Con te Partiro (Sartori)
*Denotes a piece in which we accompanied the singer.
Kristen requested an arrangement of The Prayer (Foster) for her bridal party which we were very happy to provide. She also had a specific vision for her processional using Jesu, Joy of Man's Desiring. We were able to slightly alter our arrangement, and it fit the processional well. It was so much fun working with Kristen on her wedding music!
Congratulations Michael and Kristen!
It is typical for us to contact a number of people before your wedding day. For Kristen's wedding we were in contact with her singer, pastor, church music director, day-of coordinator, as well as Kristen, in order to ensure that things moved as smoothly as possible.
© Copyright 2010-2013&nbspWhite Lake Quartet | Chicago, IL | All Rights Reserved &nbspContact Us »