History
---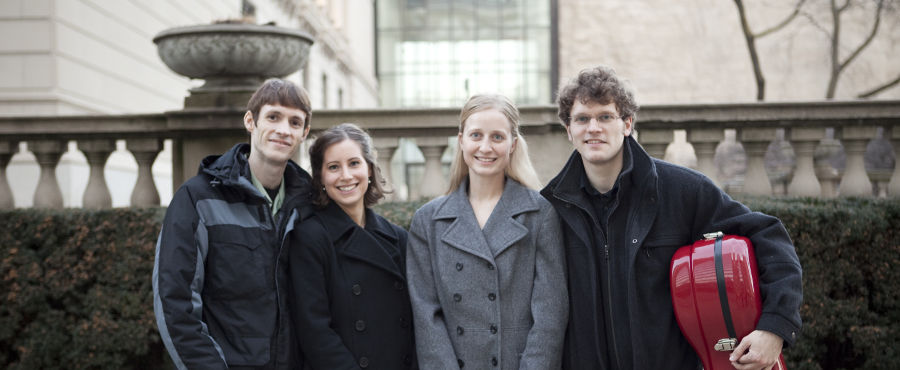 The White Lake Quartet was formed by violinist Erica Henkins and violist Christine Witte-Wiest. In high school, the two played violin together in their area youth orchestra but parted ways when they went to college in different cities. When they got together again in Chicago, Erica and Christine realized that they were both married/engaged to the other two instrumentalists needed for a string quartet (violinist Francois Henkins and cellist Jonathon Wiest). Originally they decided it would just be fun to sit down and play music together, and about a year later they decided to share that passion for quartet playing with others. Quartets are often requested for weddings and other events and since all four members had already played a cumulative 400 weddings, forming this ensemble seemed obvious.
The name "White Lake Quartet" came from combining three different ideas: 'White' came from the fact that they had already played at a number of weddings, 'Lake' is due to the close proximity of Lake Michigan to Chicago, and they had 4 regular members all of which are necessary to form a 'Quartet'. The group also plays under the names "White Lake Trio" and "White Lake Duet", depending on the size of the performing ensemble.
Today the group is led by violinist/violist Christine Wiest and her husband Jonathon Wiest. The White Lake Quartet has played at over 150 weddings, receptions, cocktail hours, holiday parties, religious services, fund raisers, and corporate events since its inception in 2008. In the summer of 2010 the other founding members, Francois and Erica Henkins, moved to North Carolina so Francois could fulfill his new residency position with the Western Piedmont Symphony. Currently the White Lake Quartet plays regularly with a core group of Chicago musicians to round out their ensembles.
© Copyright 2010-2013&nbspWhite Lake Quartet | Chicago, IL | All Rights Reserved &nbspContact Us »