Members
---
Christine Wiest
, a founding member of the White Lake Quartet, began her musical studies on the piano at age six.  Four years later she began playing the violin and continued both instruments through high school.  Christine went to Calvin College and received her degree in Bachelor of Music in Education with a concentration in Violin Performance in 2007.  While still at Calvin, Christine began playing the viola, and she received her Masters degree in 2009 from DePaul University in Viola Performance.  She has been a member of the Civic Orchestra of Chicago and has played with a number of other regional orchestras.  She also teaches violin and viola lessons.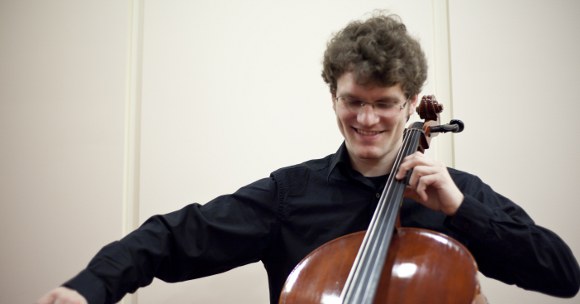 Jonathon Wiest
, another founding member of the White Lake Quartet, was first introduced to the cello in fourth grade while living in the Middle East.  He continued his studies through high school in Germany and then went to Calvin College in Michigan.  In 2007, Jonathon received his Bachelors degree in Music Theory and Composition with a concentration in Cello Performance.  Jonathon continued his education at Temple University and received his Masters of Music degree in Cello Performance in 2009.  He teaches cello lessons and has played with a number of regional orchestras in Philadelphia and Chicago.
Kate Friedman Lano has completed four seasons in the Civic Orchestra of Chicago, one of which she was concertmaster. She has appeared on the Chicago Symphony Orchestra's Symphony Center Presents MusicNOW concert series. She is a past recipient of the Jules C. Reiner Violin Prize from the Tanglewood Music Center Festival, where she also served as concertmaster and participated in master-classes with Pinchas Zukerman and Yo-Yo Ma. She received her Bachelor's of Music with Distinction from Indiana University, and both a Master's of Music with Honors and Performer's Certificate from DePaul University under the tutelage of Ilya Kaler.
Samantha May holds her Bachelor of Arts in Violin Performance from Case Western University and her Masters in Violin Performance from DePaul University in Chicago.  Samantha is a member of the Skyline String Quartet, a former member of the Civic Orchestra of Chicago, teaches private violin lessons, and teaches orchestra at Parker Jr. High in Flossmoor, IL.
© Copyright 2010-2013&nbspWhite Lake Quartet | Chicago, IL | All Rights Reserved &nbspContact Us »