Amanda-Jeff Wedding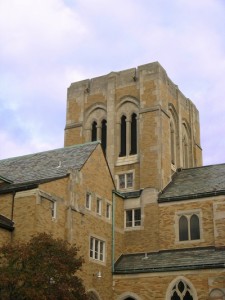 Our quartet played at Amanda and Jeff's wedding in Chicago's west suburbs near the end of October, making it our last wedding in the fall of 2010.  They had a fun, laughter-filled ceremony which included many wonderful music selections.  Some of the Prelude music they requested was the Prelude from Cello Suite No. 1 (Bach), Ode to Joy (Beethoven), Air on the G String (Bach), Arioso/Sinfonia from Cantata No. 156 (Bach), and Arrival of the Queen of Sheba (Handel).  Their musical selections during the ceremony were:
Parents/Grandparents: Jesu, Joy of Man's Desiring (Bach)
Wedding Party: Canon in D (Pachelbel)
Bride: Bridal Chorus (Wagner)
Rose Ceremony: Selections from The Four Seasons (Vivaldi)
Unity Candle: Lullaby (Hofeldt)
Recessional: Trumpet Voluntary (Clarke)
Postlude: He'll Make Me Happy (Muppets), Hornpipe (Handel)
Congratulations Jeff and Amanda!
We adjust the length of your processional and ceremony music so it only lasts as long as is necessary (eg: we played "Lullaby" until Amanda and Jeff finished lighting the unity candles and were back in their places, ready to proceed with the ceremony).