Terry-Amy Wedding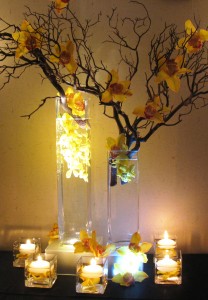 Terry and Amy were married in October in the heart of Chicago at a breathtaking location;  from almost every angle one could see the Chicago sunset.  The selections our trio played for their ceremony were:
Parents:
Selection from
The Four Seasons
(Vivaldi)
Bridal Party
:
Jesu, Joy of Man's Desiring
(Bach)
Bride
:
Canon in D
(Pachelbel)
Instrumental Interlude
:
Air
(Bach)
Unity Candle
:
Arioso
(Bach)
Recessional
:
Yellow
(Coldplay)
After the postlude we played at the cocktail hour.  Terry and Amy requested a mix of classical and pop/modern music, including:  Somewhere Over the Rainbow (Wizard of Oz), Eleanor Rigby (Beatles), Fields of Gold (Sting), Don't Stop Believin' (Journey), Chasing Cars (Snow Patrol), All I Want is You (U2).  We arranged the last three pieces especially for their wedding.
Congratulations Amy and Terry!

Grooms are just as good at planning wedding details as brides and parents.  If you are feeling overwhelmed as the bride-to-be, let your groom take some of the music organization responsibilities.