Mark and Suzanne's Wedding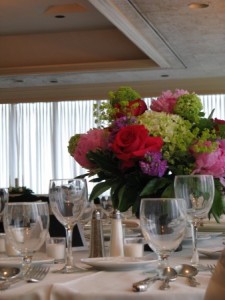 Mark and Suzanne were married at a hotel just as summer was making its first appearance of the year. Mark did most of the planning for their music selections, and his prelude requests were Over the Rainbow from "The Wizard of Oz", Rondo Alla Turca (Mozart), Gabriel's Oboe from "The Mission", O Mio Babbino from "Gianni Schicchi" (Pucchini), Hornpipe from "Water Music Suite" (Handel), Jesu, Joy of Man's Desiring (Bach). Their ceremony selections were:
Bridal Party Processional: Trumpet Voluntary (Purcell)
Bridal Processional: Canon in D (Pachelbel)
Interlude: Ave Maria (Schubert)
Unity Candle: Clair de Lune (Debussy)
Recessional: Wedding March (Mendelssohn)
Postlude: Brandenburg Concerto No. 3 (Bach) and The Marriage of Figaro Selections (Mozart)
The cocktail hour directly followed the ceremony, located at the back of the ceremony room. Mark selected 21 songs, and we got through about 15 of his selections. In the middle of the cocktail hour Mark asked us to play a special piece in honor of his niece's birthday and Here, There, and Everywhere by the Beatles for his parent's anniversary.
Congratulations Suzanne and Mark!
Most couples pick two processional pieces: one for the bridal party and one for the bride. Some couples also request a piece to be played at the end of the prelude as family members and groom enter (Mark wanted this piece to be "Jesu, Joy of Man's Desiring"). We also have had couples request only one piece for the processional which is perfectly acceptable.