Lindsay and Mike's Wedding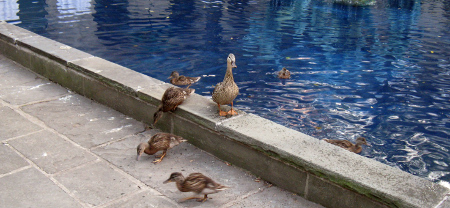 On a warm, sunny day, our quartet played for Lindsay and Mike's wedding. Although their wedding was indoors, the front of the room had floor-to-ceiling windows, making it possible to see the entire park across the street. Lindsay requested the following for her ceremony:
Prelude: Aria (Handel), Serenade (Schubert), "Air" from Water Music Suite (Handel), "Minuet" from Sonata in G (Beethoven), and Air on the G String (Bach)
Bridal Party Processional: Jesu, Joy of Man's Desiring (Bach)
Bridal Processional: Canon in D (Pachelbel)
Interlude: "Can You Read My Mind" from Superman (McGovern)- Lindsay's sister sang with us.
Sand Ceremony: On Wings of Song (Warren)
Recessional: Trumpet Voluntary (Clarke)
Postlude: Quartet No. 4 in C Major (Mozart) and Eine Kleine Nacht Music (Mozart)
The postlude was followed by a cocktail hour in an outdoor courtyard. The fountain even had ducks swimming in it! Lindsay wanted to choose all her cocktail hour music and requested 15 pieces from genres including: Classical/Opera, Broadway/Film, and Swing.
We arranged two special pieces for Lindsay's wedding: "Can You Read My Mind" from Superman (McGovern) arranged for string quartet and voice, and "Moon River" from Breakfast at Tiffany's (Mancini) arranged for string quartet, which we played at the cocktail hour.
Congratulations Lindsay and Mike!

We have received a few questions lately about choosing an order for pieces during prelude, postlude, and cocktail hour. For preludes, one can either order the pieces to build up slowly, with the processional as the final climactic moment, or can place slower pieces nearer the end to make the processional "pop" in context. When mixing genres, as many people do for their cocktail hour, one can 1. group all the classical music together then all the pop music or 2. group a few of each genre together and alternate these groups.