Renee and Matthew's Wedding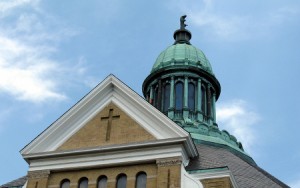 One warm and sunny summer day Renee and Matthew were married in a grand Catholic church in Chicago.  For prelude music they requested Prelude No. 2 (Gershwin), Yellow (Coldplay), All I Want is You (U2), All You Need is Love (Beatles), I Only Have Eyes For You (Warren), and Air on the G String (Bach).   The service included the following pieces requested by Renee:
Family, Groom, and Reverend: Trumpet Voluntary (Clarke)
Bridal Party Processional: Canon in D (Pachelbel)
Bridal Processional: Jesu, Joy of Man's Desiring (Bach)
Unity Candle: Arioso (Bach)
Recessional: Viva la Vida (Coldplay)
Renee and Matthew decided to let vocalist and pianist lead all the liturgical music in their mass in order to keep rehearsals simple.
Congratulations Matthew and Renee!

We have over 400 titles in our continually-expanding repertoire list which is set up in easy-to-search (PDF) format.  Our list divided into genres for you to mix-and-match if desired: Classical (from all time periods and including popular opera titles), Folk Tunes, Waltzes, Broadway/Film/TV, Ragtime, Latin/Tango, Jazz/Swing, Pop/Rock/R&B/Crossover, Religious (Jewish and Catholic/Protestant), and Christmas Music.  If you wish to have music that is not included in these genres or on our list, we are always willing to put together an arrangement.