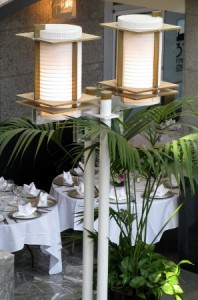 Mindy and Mike got married at the end of the winter in downtown Chicago.  The remnants of the 2011 blizzard in February, which dumped 2 feet of snow in 24- hours and practically shut down Chicago, were all but gone.  Mike and Mindy's wedding took place in a spectacular room: open, marble-lined with tall, indoor palm trees and a magnificent fountain.  The music they chose for their wedding ceremony was:
Prelude: Air on the G String (Bach), Wachet Auf/Sleepers Awake (Bach), Selections from The Four Seasons (Vivaldi)
Parents: Jesu, Joy of Man's Desiring (Bach)
Bridesmaids: Canon in D (Pachelbel)
Bride: Bridal Chorus (Wagner)
Recessional: All You Need Is Love (Beatles)
Postlude: You Shook Me All Night Long (AC/DC), God Only Knows (Beach Boys), Sweet Child o' Mine (Guns N' Roses), Bittersweet Symphony (the Verve), and Chasing Cars (Snow Patrol).
Congratulations Mike and Mindy!
If you wish to combine classical and pop genres, many couples choose to start their ceremony with classical music and move to pop selections at the recessional/postlude or for the cocktail hour.